The tagline of the book, Auto – Pilot: The Art & Science of Doing Nothing is what attracted me to the book. I wanted to know if my thoughts on the concept of being idle resonated with the book and author.
The author makes it abundantly clear in the first few pages itself that he is fighting the age-old ideology.
"Our contradictory fear of being idle, together with our preference for sloth, may be a vestige from our evolutionary history."
Auto – Pilot: The Art & Science of Doing Nothing is a book that is not to be read lightly. Even though it explains the importance of being idle, the process and research put in are anything but trivial. The author has mentioned in-depth studies, research projects and books that prove beyond a doubt how serious the concept is.
To just sit and do nothing is one of the most difficult things especially for those who follow the age-old adage, 'Idle mind is devil's workshop'. However, I agree to disagree since I have personally had many a wonderful breakthroughs and ideas while sitting idle—daydreaming—thinking or relaxing.
He does not talk about just being idle or relaxing but about not being 'wired' or connected to our devices 24/7 so when are our minds truly free or just 'wool-gathering'. We are connected or in working mode that we cannot unwind properly. No wonder, we have getaways now that have no gadget, no Wi-Fi and no networks so guests can be truly free and in-sync with Mother Nature and their inner selves.
Andrew suggests in his book, Auto – Pilot: The Art & Science of Doing Nothing that freeing our mind, unloading the 'stuff' stressing us out on to a notepad or to do list or any of the numerous app available is the right way of working. Only then can we some space free in our brain, help us relax that we will not forget them and they will be done as well. The importance of self-organisation is paramount for him. In his studies, he has done extensive research and found fault with Six Sigma, too much work, the concept of being wired to our work and how too much work is really killing people. Especially if you die, you will be easily, swiftly replaced at work but not by your family.
This book, Auto – Pilot: The Art & Science of Doing Nothing goes into detail about being overworked, suffering from extreme stress, depression and suicides. A chapter, 'Work Is Destroying the Planet', sums up his thoughts on the work culture. Though majorly on American work culture and lifestyle it fits into any country, any person. After all, we all are running after that perfect job, the best pay and the perfect vacation. The book has a few pages that are science heavy and are a bit difficult to read, however, they get the message across.  A short book Auto –Pilot mentions many times the astonishing breakthroughs or the creative masterpieces done by people who were idle or relaxing. He makes a valid statement, one that I agree to.
Even for our kids, we are told to let them be, let them get bored and not to fill their days with continuous tasks or unlimited television so they can relax, let their mind take flight. To relax and get bored so we start thinking out of the box.
So did you spend any idle time today?
How do you relax?
Which is your preferred place to unwind?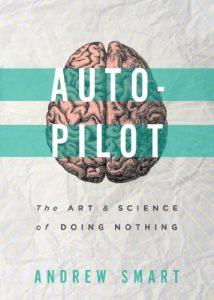 Book Blurb – Auto – Pilot: The Art & Science of Doing Nothing
Andrew Smart wants you to sit and do nothing much more often – and he has the science to explain why.
At every turn we're pushed to do more, faster and more efficiently: that drumbeat resounds throughout our wage-slave society. Multitasking is not only a virtue, it's a necessity. Books such as Getting Things Done, The One Minute Manager, and The 7 Habits of Highly Effective People regularly top the bestseller lists, and have spawned a considerable industry.
But Andrew Smart argues that slackers may have the last laugh. The latest neuroscience shows that the "culture of effectiveness" is not only ineffective, it can be harmful to your well-being. He makes a compelling case – backed by science – that filling life with activity at work and at home actually hurts your brain.
A survivor of corporate-mandated "Six Sigma" training to improve efficiency, Smart has channeled a self-described "loathing" of the time-management industry into a witty, informative and wide-ranging book that draws on the most recent research into brain power. Use it to explain to bosses, family, and friends why you need to relax – right now.
About the Author
A human factors research scientist, Andrew Smart received B.S. and M.S. degrees from Lund University in Sweden, where he worked on using noise to improve memory and attention in children with ADHD. While at New York University, he analysed brain imaging data from experiments on the neural basis of language. Auto – Pilot is his first book.